Local 34 Apprenticeship Program
Job Description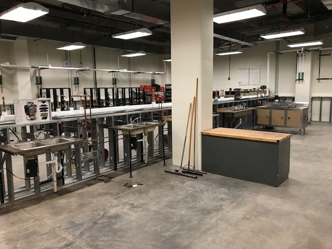 Plumbers are responsible for the installation and maintenance of a piping systems, fixtures and equipment to supply water and waste piping for personal and commercial use.
Qualifications
Must be 18 years of age or older
Must have a high school diploma or GED
Selection Procedures
Applicants must complete an assessment test (reading, math, and spatial aptitude).
This can be done at Saint Paul College on a walk-in basis. Contact Saint Paul College for hours.
Applicants who have attained a minimum requirement on each portion of the assessment at Saint Paul College will be invited to an interview. The assessment is administered year-round; however, interviews generally take place in October. The oral interview score, along with the test scores, will be added together. They will then be placed on a list of eligible applicants in descending order of score. This list will determine the placement into the Pre-apprenticeship course.
The course starts in January of each year and costs approximately $650 dollars. Applicants must have completed the application process by September 30th to be considered for an interview.
Apprenticeship Program
After acceptance, the applicants names will be given to Plumbers Local 34 for placement into the apprenticeship program.
The apprenticeship program itself currently involves 8,500 hours (five years) of on-the-job training and a minimum of 196 hours of related instruction each year. All apprentices shall be subject to a probationary period of not more than five hundred (500) hours of employment and related training.
Transportation Requirements
You must provide your own transportation to and from each job.
Hours
Typically eight (8) hours daily between 7:00am and 5:00pm
Wages
Year 1 - 1,700 hrs + 196 hrs related training - 40%
Year 2 - 3,400 hrs + 196 hrs related training - 50%
Year 3 - 5,100 hrs + 196 hrs related training - 60%
Year 4 - 6,800 hrs + 196 hrs related training - 70%
Year 5 - 8,500 hrs + 196 hrs related training - 80%
Plus fringe benefits
Percentage represents the proportion of the prevailing journeyperson's wage rate.
Before each period of advancement, the Joint Apprenticeship Committee shall evaluate the apprentice's progress to determine whether advancement has been earned.
Union Dues
Each Apprentice is responsible for paying their own union dues.
If you have any questions, contact us.
Download Apprenticeship Time Sheet