Local 34 Journeyman Training
Journeyman Class: For continuing ed classes call the Training Office for registration info @ 651-846-1389
Continuing education requirements for plumbers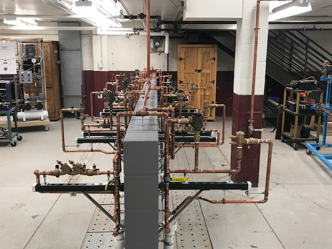 All master and journeyman plumbers must take a total of 16 hours of approved CE in each two-year license period. At least 12 hours must pertain to the State Plumbing Code and at least four hours must pertain to technical topics related to plumbing installations and equipment, the Minnesota State Building Code, or the Minnesota statutes governing plumbing work. No more than four hours can be taken online in each license period.
Medical gas certificate holders must take four hours of approved continuing education each license period beginning with their initial renewal. All four hours must pertain to the technical topics related to the installation, repair, or maintenance of medical gas systems, NFPA 99, or the Minnesota laws and rules relating to medical gas systems.
The JATC will be offering classes throughout the year (Check the Events page for scheduled classes). There are many other organizations offering classes as well. See all classes.
Check your CE classes taken
Click on the link above. You will need your license # and last for of your social
If you have any questions, please contact the training office.